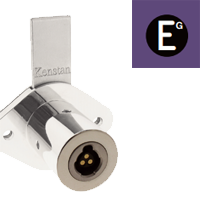 EG Medeco® Electronic Line
The EG Medeco® XT is a complete electronic locking system providing Controlled Access, Accountability, Physical Security, and System Management. More than just a way to protect your property, equipment and assets, Medeco® XT is also a business tool that can lead to a substantial return on investment.
Controlled Access
Keys are electronically programmed to open only specific locks during a designated schedule. Schedules may also contain an expiration point to completely disable the key until it is audited and reprogrammed.
Accountability
Audit information recorded in both the lock and key shows a time-and-date stamped record of every event, including authorized accesses and unauthorized attempts.
Electronic Rekeying & Scheduling
Electronic Rekeying & Scheduling – Respond quickly to security threats, lost or stolen keys, or personnel changes without the added cost of changing your locks and keys.
Easy Installation
Medeco® XT key provides all power to the cylinder, eliminating the need for any hard wiring or power supply. Simply remove the existing mechanical cylinder and install the Medeco® XT cylinder
Physical Security Medeco® XT products add a wide variety of intelligent features without compromising on physical security. Attack-resistant design and tamper-proof features provide strong protection against forced entry.
Efficent System Management
Medeco® XT software contains tools that will help you manage your security more efficiently. Flexible programming, scheduled access and full audit reports are offered with the convenience of web-based software.
Applications
Medeco® XT cylinders are available to fit nearly any application or hardware type for enhanced security and accountability.
Delivery
At Kenstan, we assemble every lock to order and strive to meet your requested in-house date.
Plating The EG line standard plating finish is Polished Nickel. A wide range of special plating finishes is also available, including Satin Nickel, Polished Brass, Satin Brass, Statuary Bronze, Matte Black and Custom Finishes to match your showcase hardware.

Please note: Extended lead-time and plating lot charges may apply to Special and Custom finishes. Please call Kenstan for details.