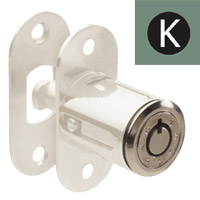 Keymatic Line of Locks
Our K Line offers excellent security in many different lock types that can be keyed to thousands of different key codes. Each key code has eight individual operating keys 1 through 8, used one at a time to operate the lock. Our Red Change Tool can reset the lock to allow a new operating key (within the assigned code) to open the lock any time a key is lost or stolen — truly eight locks in one. Locks can be keyed alike, individually or in groups.
Delivery
At Kenstan, we assemble every lock to order and strive to meet your requested in-house date. Our standard lead time is to ship within 2 weeks from the receipt of your order. Rush order and emergency services are available.
Plating
The K line standard plating finish is Polished Nickel.
A wide range of special plating finishes is also available, including Satin Nickel, Polished Brass, Matte Black, Statuary Bronze, Satin Brass and Custom Finishes to match your showcase hardware.
Please note: Extended lead-time and plating lot charges may apply to the Special and Custom finishes. Please call Kenstan for details.

Key Control
Keymatic locks and keys are built to a high level of precision, making key duplication very difficult. Please note: We recomend our factory original key for smooth lock operation. Use of non-Kenstan copy will void the Kenstan warranty on our locks.
We can register your keys and maintain your key plans by store, retail department, showcase/cabinets, or office and we maintain a historical database of key numbers.
All operating keys are stamped with a two-digit, alpha numeric date code, a four-digit, numeric Keymatic code and a one-digit, numeric setting code (from 1 to 8) with a matching color coded key cover. The Red Change Tool is stamped with the same code as the operating key, except without the setting code.

Key Retaining vs. Non-Key Retaining Lock Function
The k line standard operation is a key retaining function (captive), which means that the operating key can be removed in the locked position only; therefore, the lock cannot be accidentally left in the open/unlocked position.
K locks can also be supplied as non-key retaining (non-captive), which allows the key to be removed in both the locked and unlocked position.
Designer Note: For true captive operation, the use of our captive key locks must be coordinated with sliding door showcase design. The use of non by-passing sliding doors is recommended to restrict door movement and ensure key removal only when the doors are in the secure position.