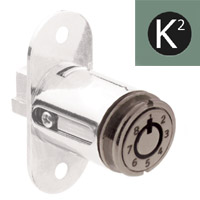 K2 Keymatic Pull Line of Locks
Kenstan is proud to introduce a new line of our Keymatic (K) series locks, the K2. In addition to all the features of the original Keymatic series of locks, it has three new features that will help extend the life, ease operation, and simplify installation of the lock. The lock face and the corresponding tubular key have been redesigned by adding an interlocking feature. This interlocking feature creates a solid connection between the key and the lock. Hence, the inserted key can be used as a Pull without damaging the key or the lock.
Delivery
At Kenstan, we assemble every lock to order and strive to meet your requested in-house date. Our standard lead time is to ship within two weeks from the receipt of your order. Rush orders and emergency services are available.

Plating
The K2 line standard plating finish is Polished Nickel. A wide range of special plating finishes is also available, including Satin Nickel, Polished Brass, Matte Black, Statuary Bronze, Satin Brass and Custom Finishes to match your showcase hardware.
Please note: Extended lead-time and plating lot charges may apply to Special and Custom finishes. Please call Kenstan for details.
Key Control
Keymatic locks and keys are built to a high level of precision, making key duplication very difficult. Please note: We recommend our factory original key for smooth lock operation. Use of non-Kenstan copy will void the Kenstan warranty on our locks.
We can register your keys and maintain your key plans by store, retail department, showcase/cabinets, or office and we maintain a historical database of key numbers.
The stamped number on the K2 key will have a prefex letter "P" followed by five numerical digits of which the last one represents the lock setting (1 to 8).
The Red Change Tool is stamped with the same code as the operating key, except the setting code is 0.
Key Retaining vs. Non-Key Retaining Lock Function
The K2 line standard operation is a key retaining function (captive), which means that the operating key can be removed in the locked position only; therefore, the lock cannot be accidentally left in the open/unlocked position. K2 locks can also be supplied as non key retaining (non-captive), which allows the key to be removed in both the locked and unlocked positions, this feature will eliminate the key pull feature on some locks