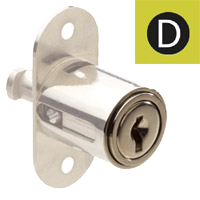 Disc Tumbler Line of Locks
Our D line will be utilizing our Higher Security B Controlled Keyway as the standard keyway. Our B keyway differs from standard industry restricted offerings since it has been specifically designed to offer key control at economy pricing. All new orders without existing assigned key specifications will be assembled with our Controlled B keyway. The original D Line 54G keyway locks and keys will still be available for purchase to match existing key systems. Our large component inventory and assemble-to-order factory enables you to order door locks, drawer locks and sliding door lock types keyed alike, keyed individually or in groups, and master keyed using hundreds of key combinations. Kenstan maintains a historical database of keying records, giving you the ability to match key numbers to support the security needs of a specific end user. Note: When placing your lock order, please be aware that keys for both the B and 54G keyways will no longer be included with your lock purchase. All keys are now sold separately. Please refer to our Disc Tumbler Key section for details.
Delivery
At Kenstan, we assemble every lock to order and strive to meet your requested in-house date. Our standard lead time is to ship within 2 weeks from the receipt of your order. Rush order and emergency services are available.

Plating
The D line standard plating finish is Polished Nickel. A wide range of special plating finishes is also available, including Satin Nickel, Polished Brass, Satin Brass, Statuary Bronze, Matte Black and Custom Finishes to match your showcase hardware. Please note: Extended lead-time and plating lot charges may apply to the Special and Custom finishes. Please call Kenstan for details.
Key Control
Kenstan can register your keys and maintain your key plans by store, retail department, showcase/cabinets, or office and we maintain a historical database of key numbers.
Key Retaining vs. Non-Key Retaining Lock Function
The D line standard operation is a non-key retaining function (non-captive), which means that the operating key can be removed in both the locked and unlocked position. For higher security we recommend the key retaining (captive) function, which ensures that the key can only be removed in the locked position and cannot be accidentally left in the open/unlocked position. Designer Note: For true captive operation, the use of our captive key locks must be coordinated with sliding door showcase design. The use of non by-passing sliding doors is recommended to restrict door movement and ensure key removal only when the doors are in the secure position.