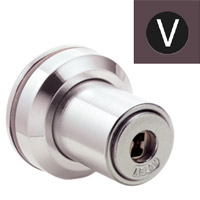 ABLOY® EXEC Line of Locks
The V line offers high security in all different showcase and cabinet locks with thousands of high-security precision cut key combinations. Locks can be keyed alike, individually or in groups and can be master, grand master or great grand master keyed. At Kenstan, we assemble every lock to order and strive to meet your requested in-house date. Our standard lead time is to ship within 2 weeks from the receipt of your order. Rush order and emergency services are available.
Plating
The V line standard plating finish is Polished Chrome.
A wide range of special plating finishes is also available, including Satin Chrome, Polished Brass, Satin Brass, Statuary Bronze, Matte Black and Custom Finishes to match your showcase hardware.
Please note: Plating lot charges may apply to the special finishes - call for pricing.
Resistance to Attack and Key Control
Our V line showcase and cabinet locks offer rotating disc technology and are designed to offer a high level of physical security. The disc-style locking mechanism is designed without springs, assuring long life and smooth operation. It is nearly impossible to pick these locks using standard techniques. We can register your keys and maintain your key plans by store, retail department, showcase/cabinets, or office and we maintain a historical database of key numbers. For security reasons, duplication of V keys for locks purchased originally from Kenstan can only be obtained through Kenstan with an authorized signature. Key blanks are never sold.
Key Retaining Lock Function
The V line standard operation is a key retaining function (captive), which means that the operating key can be removed in the locked position only; therefore, the lock cannot be accidentally left in the open/unlocked position.
Please Note: Our V line of locks have a 90 degrees Ïlost motionÓ operation. The key is inserted and turned 90 degrees (key verification process) before the lock can begin to open.
Designer Note: For true captive operation, the use of our captive key locks must be coordinated with sliding door showcase design. The use of non by-passing sliding doors is recommended to restrict door movement and ensure key removal only when the doors are in the secure position.