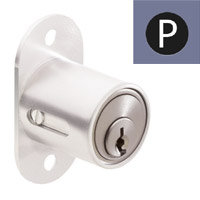 Pin Tumbler Line of Locks
For excellent security, our P line offers many different lock types that can be keyed alike, individually or in groups. They can also be master keyed or grand master keyed using thousands of 4 and 5 Pin Tumbler key combinations in National D4291 and CCL R1 keyways.
Delivery
At Kenstan, we assemble every lock to order and strive to meet your requested in-house date. Our standard lead time is to ship within 2 weeks from the receipt of your order. Rush order and emergency services are available.
Plating
The P line standard plating finish is Satin Chrome.
A wide range of special plating finishes is also available, including Polished Brass, Satin Brass, Matte Black, Polished Chrome, Statuary Bronze and Custom Finishes to match your showcase hardware.
Please note: Extended lead-time and plating lot charges may apply to the Special and Custom finishes - call Kenstan for pricing.
Handing
Handing means the orientation of the key relative to the bolt movement. We can always orient the lock so the key is inserted vertically.
Right Handing means the door hinges on the right side and locks on the left
Left Handing means the door hinges on the left side and locks on the right.
Vertical Handing means the drawer is locked at the top.
Inverted Handing means the drawer is locked at the bottom.

Key Control
Kenstan can register your keys and maintain your key plans by store, retail department, showcase/cabinets, or office and we maintain a historical database of key numbers. Keys should be secured when not in use.
Key Retaining vs. Non-Key Retaining Lock Function
The P line standard operation is a non-key retaining function (non-captive). In this operational condition, the operating key can be removed in the unlocked position.
For higher security we recommend the key retaining (captive) function, which forces the key to be removed in the locked position only. The lock cannot be accidentally left in the open/unlocked position.